With the Highspot integration, users can import files from Highspot into RFPIO. This is useful for users who would like any sales documentation stored in Highspot to be added easily to RFPIO.
Note: This is an add-on feature and must be enabled by RFPIO staff. Please contact your account manager, or accountmanagers@rfpio.com, if you would like to enable it.
Setting Up the Highspot Integration
To set up the Highspot integration in RFPIO:
Click on your profile image from the bottom left-hand corner, then select Organization Settings.


Under Integration, click on Collaboration, then select Configure under the Highspot integration.




Enable the toggle, then fill out the configuration form by entering the information in the fields: Highspot URL, Key, and Secret. To obtain the URL, Key, and Secret, you will need to go to Highspot:
Click on your profile image from the top right-hand corner.
Click Settings.
Click Developer.
The URL, Key, and Secret can be found on the Developer page. You will also need to make sure that API Impersonation is enabled.


Go back to RFPIO and complete the configuration form, click Connect to Highspot, then click Submit.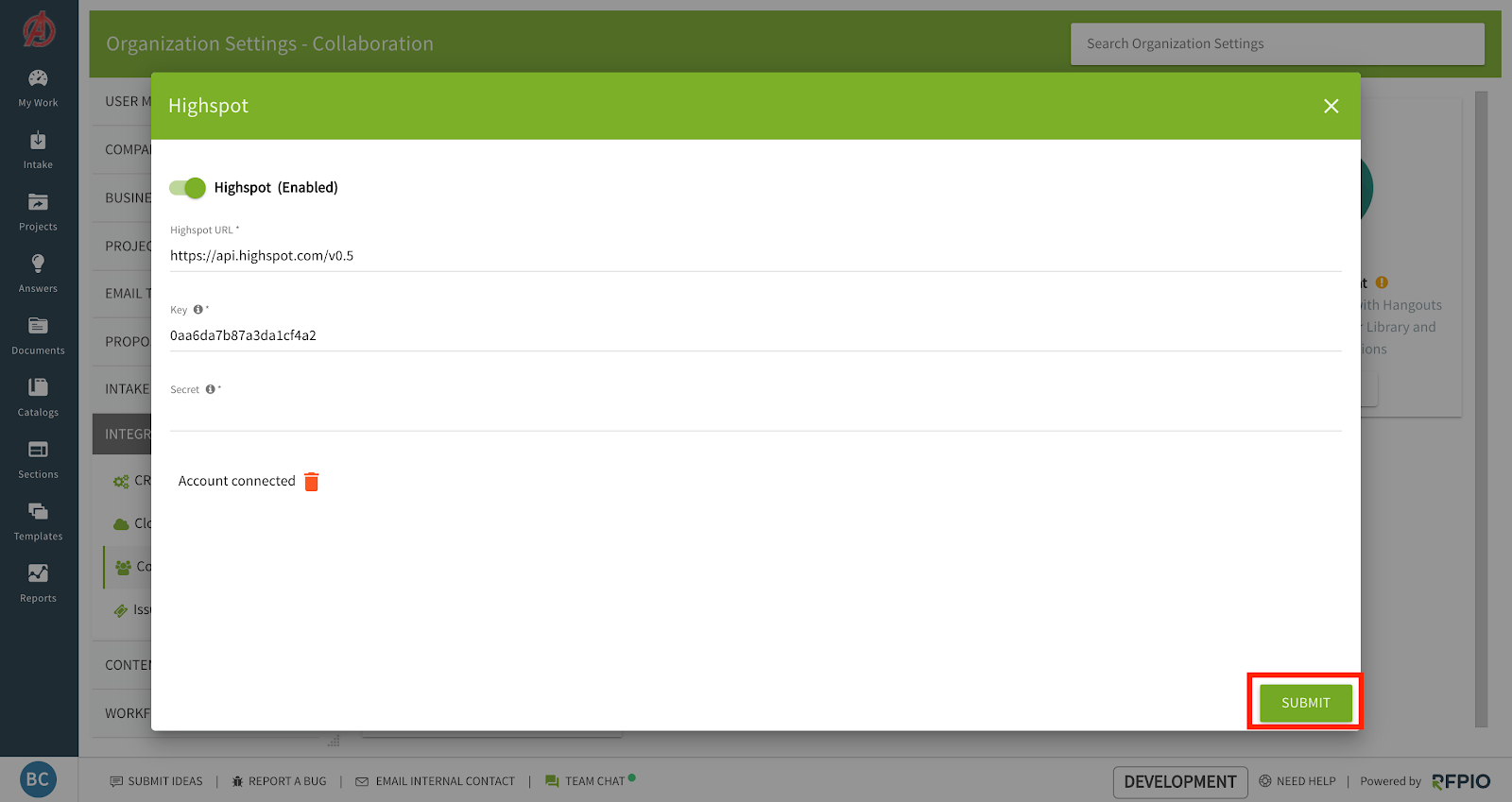 Adding Highspot Documents to RFPIO
Highspot documents can be added wherever adding documents and attaching files is available in RFPIO (e.g. attaching files to Q&A pairs or adding documents to the Document library). For example, to add a Highspot document to the Document library:
Click on the Documents tab from the left-hand navigation menu, then the Add Files icon in the top right part of the screen.




From the list of options on the left, select Highspot. Select the list of documents to be added, then click Add Content.




Click Close.


Exporting Responses to Highspot
To export project responses from RFPIO to Highspot:
Go to the Project Dashboard of a Project and click on the

Menu

icon. Then, click on

Export Responses.




From the list of export packages, click on the three dots icon. If you don't have any export packages available, you will need to generate one.




Click Publish to Highspot.




Select the spot to publish the package, then click Publish.

Note: Users can only publish to spots where they have Read & Write access.




Export packages that have been added to Highspot will show a Highspot icon next to the package name.



Note: Publishing an export package more than once can cause duplicate files in Highspot. Please refer to Highspot settings to manage duplicates.