Integrating Multiple Salesforce Instances
You can integrate multiple Salesforce instances to your RFPIO instance. You can use these separate integrations simultaneously while creating projects and intakes in RFPIO. The following article will show you how to set up multiple Salesforce integrations and how to link project and intakes created in RFPIO to the correct Salesforce Instance and Object. Note: Salesforce is a paid Add-On. Please contact an RFPIO Account Manager at accountmanagers@rfpio.com for details.
Prerequisite: In order to effectively set this up, you will need to make sure a Salesforce Admin in your Organization is set up as a user and provided Admin Level permissions. Your Salesforce Admin will then need to follow the below steps to correctly integrate.
Use Case
Organizations might leverage two separate instances of Salesforce for different geographical locations, lines of business, or, simply, might have gone through a recent acquisition and have their sales pipeline living in two places. In this case, you can connect each instance of Salesforce to a single instance of RFPIO. Once connected, your project manager will be able to create a projects while having access to data living across each instance of Salesforce. This gives you the ability to associate your active project with the correct opportunity and ensure the correct information is available for a winning project.
To integrate multiple Salesforce instances, you can follow the steps below:
Login to RFPIO
Click Organization Settings > INTEGRATION.
Select CRM and then click Configure associated with Salesforce.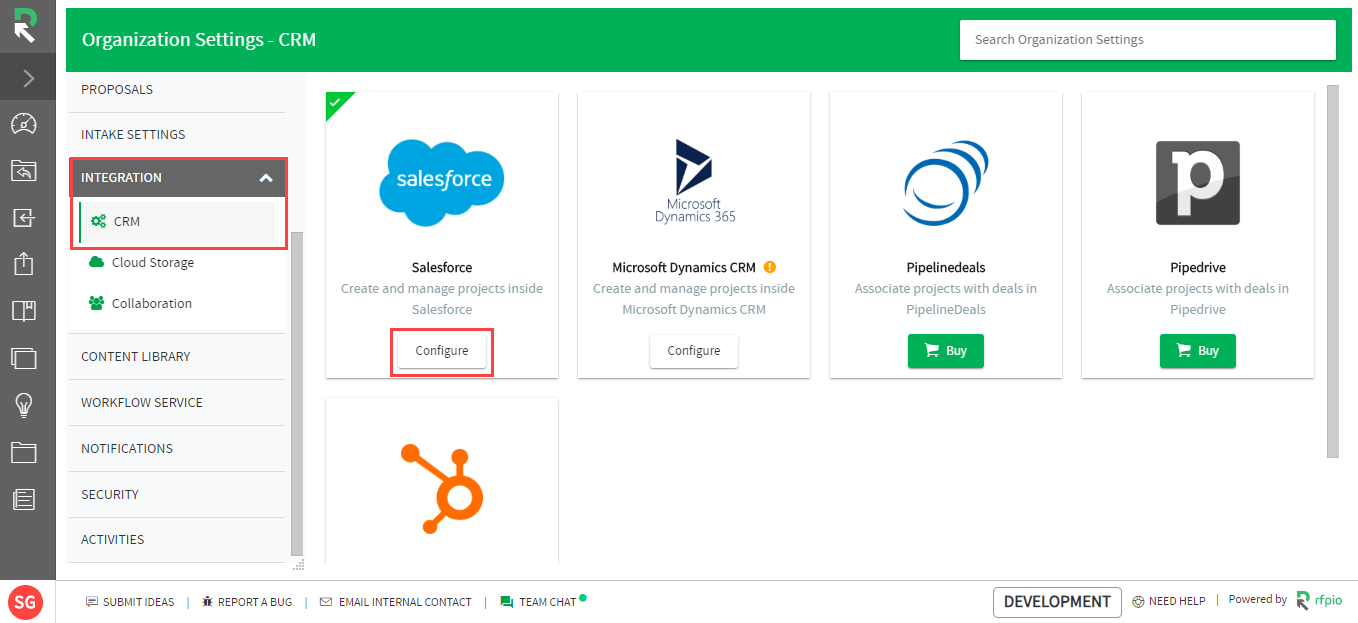 Turn On the toggle switch associated with Salesforce and click SUBMIT. A page as shown below will be displayed: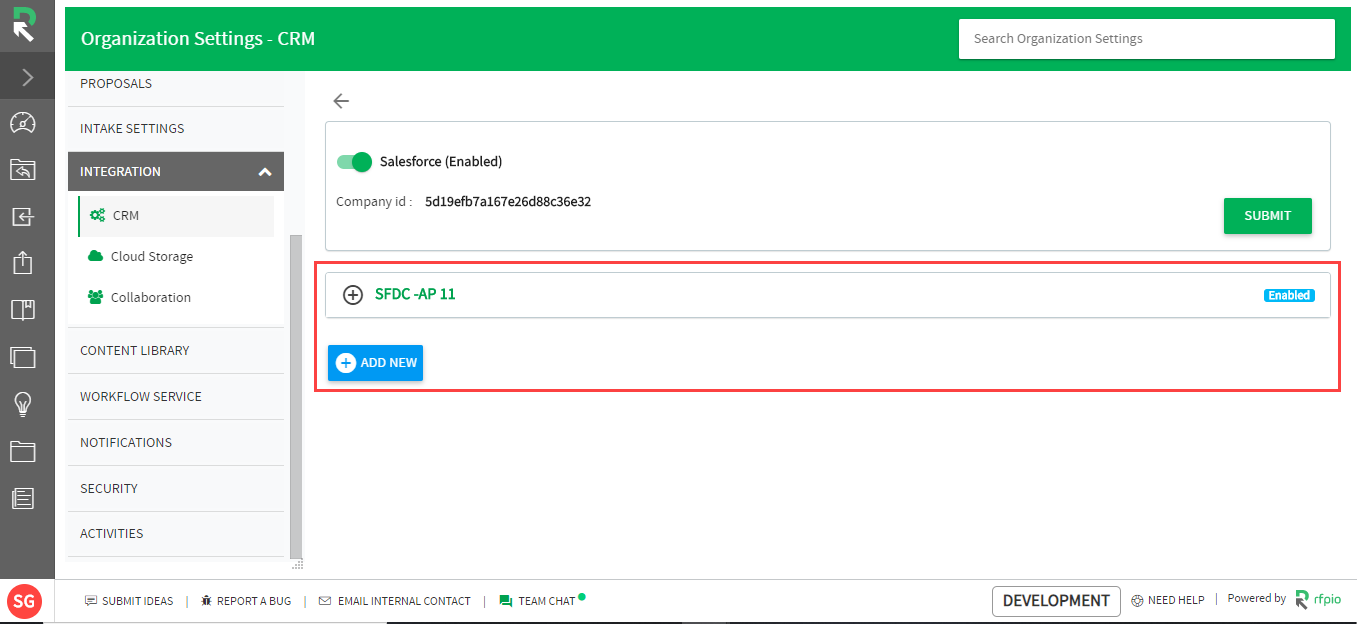 By default, you can find one instance mapped to your company. You can modify the details, if required.
To add a new instance, click ADD NEW.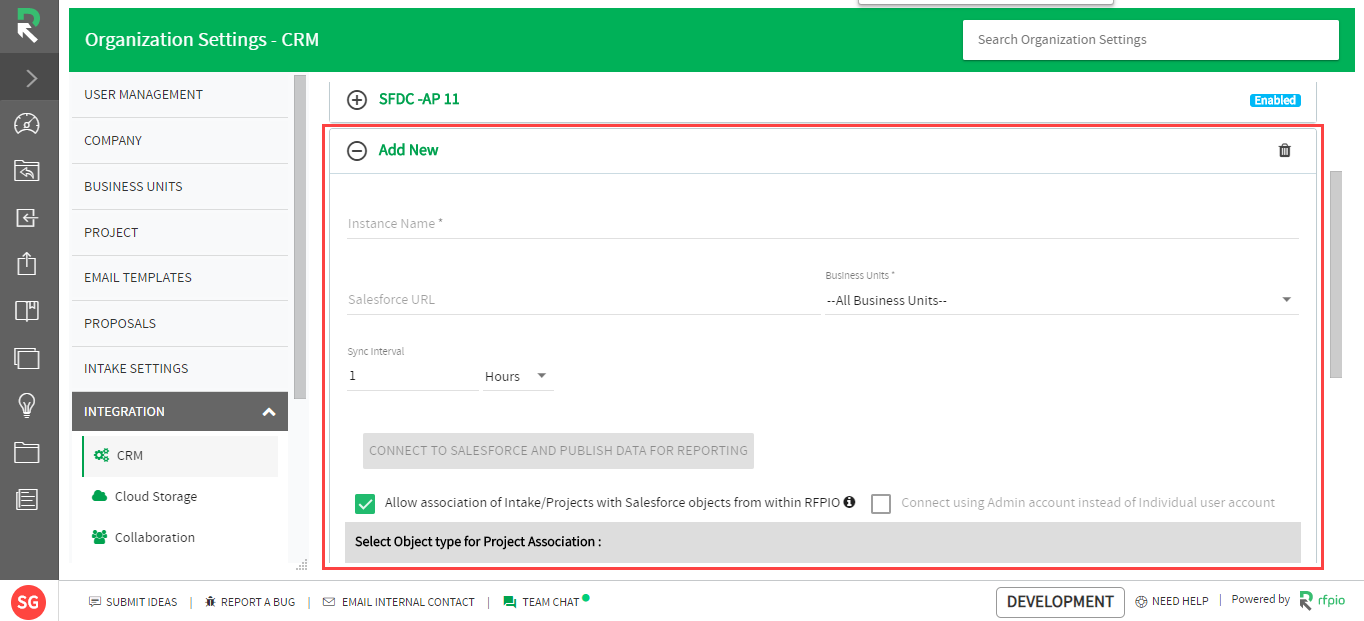 Enter the required details such as name, Sync interval and Salesforce URL. If you have Business Units enabled, you can specify the specific Business Unit details here as needed.
Note: Once the Business unit (BU) is specified, the created instance will be available only for the Business Unit specified here. You can create multiple instances for a same BU.
Click CONNECT TO SALESFORCE AND PUBLISH DATA FOR REPORTING. Once connected, the page will be displayed as shown below: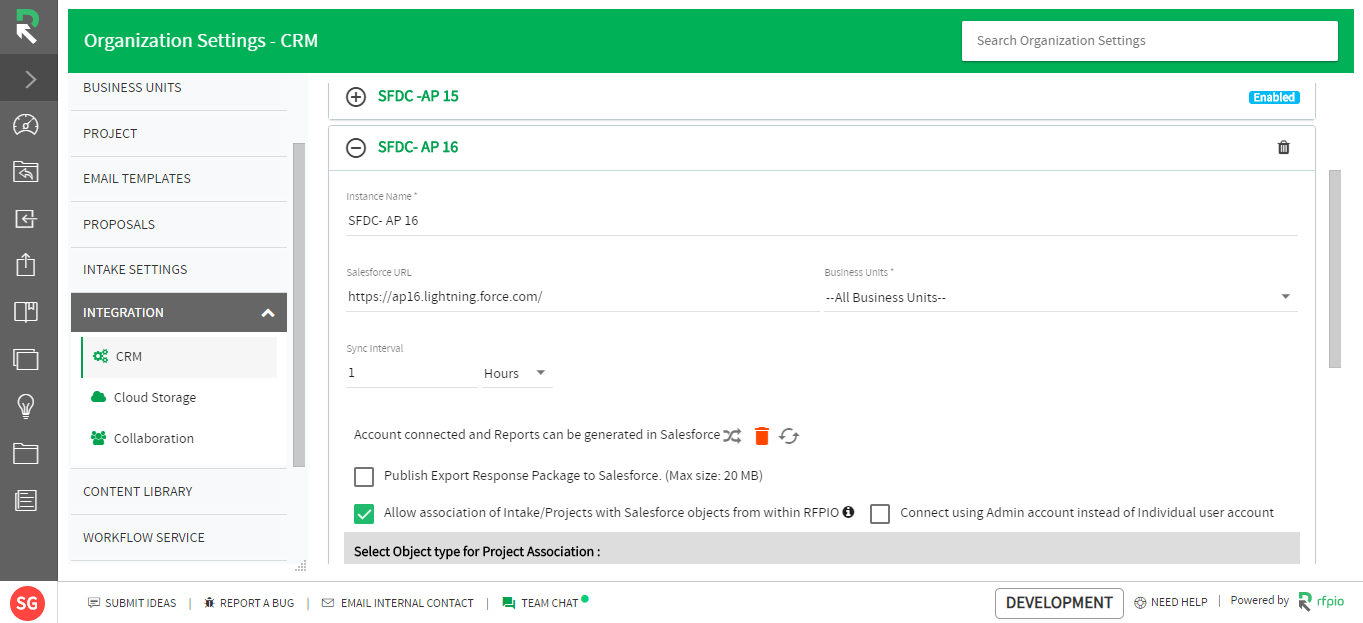 Select the checkbox associated with Publish Export Response Package to Salesforce.
Select the checkbox associated with Connect using Admin account instead of individual user account.
Note: If this is not selected, the Salesforce instances created will not be displayed while creating projects/intakes/custom fields.
Next, select the object type for project association.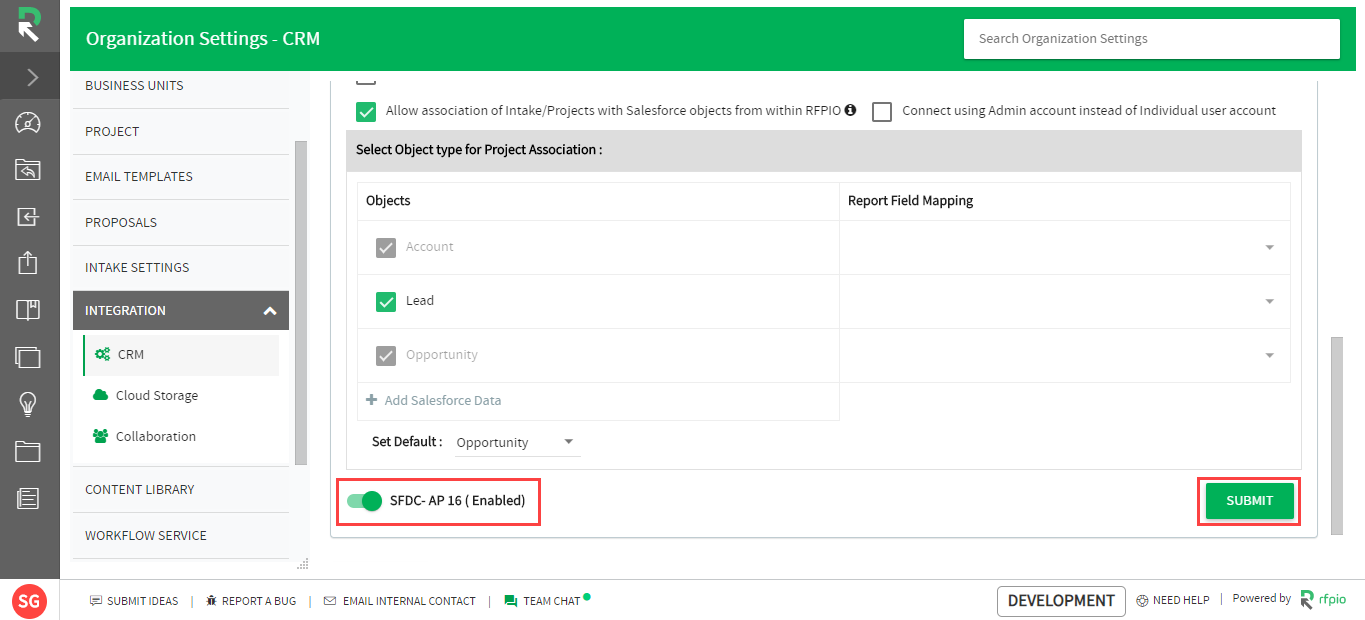 Turn on the toggle switch to enable this instance.
Click SUBMIT to save the instance. A success message as shown below will be displayed: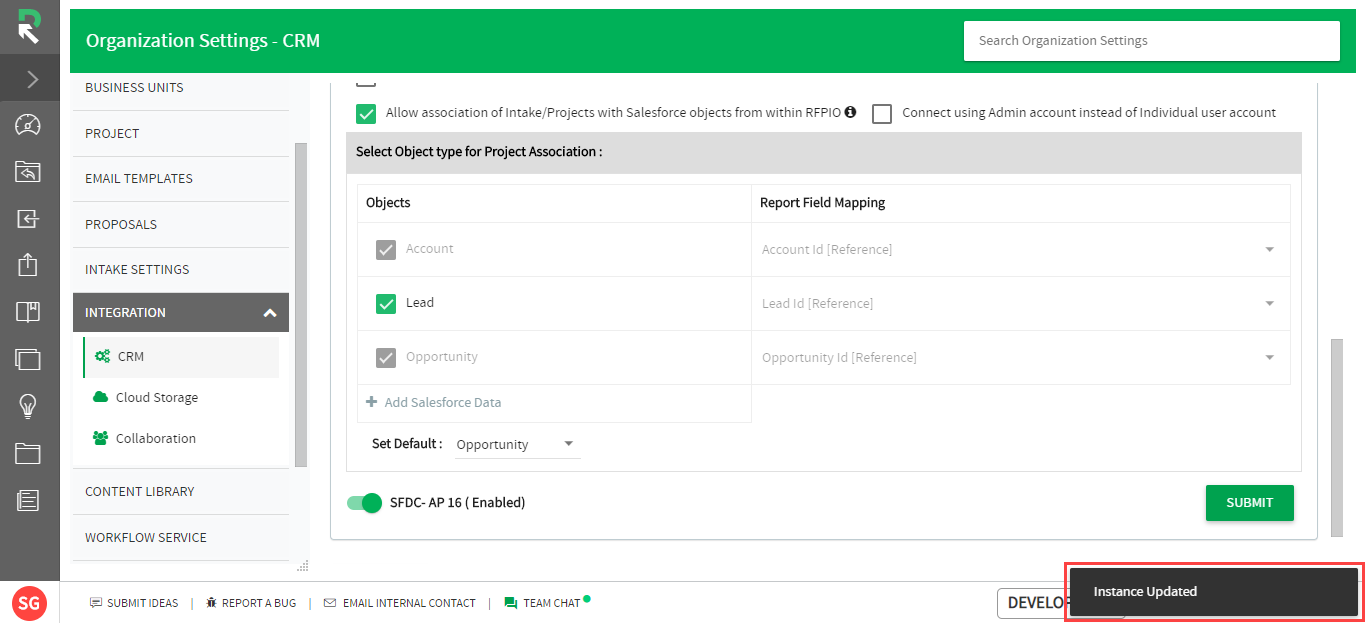 You can create Salesforce project/intake for this instance directly from RFPIO for specific BUs. You can modify/ delete the created instances at any point in time.
Creating Projects
Best practices is to connect your projects in RFPIO to your Salesforce whenever you can. The instructions below will show you how to connect a project, already set up in RFPIO, to the correct Salesforce instance and then the correct object type within that Salesforce instance.
To create a Salesforce project from RFPIO, you can follow the steps below:
Login to RFPIO and select Projects from the left navigation pane. The Manage Projects page will be displayed.
Click CREATE NEW.
To associate with Salesforce, click icon. The Salesforce Details page will be displayed.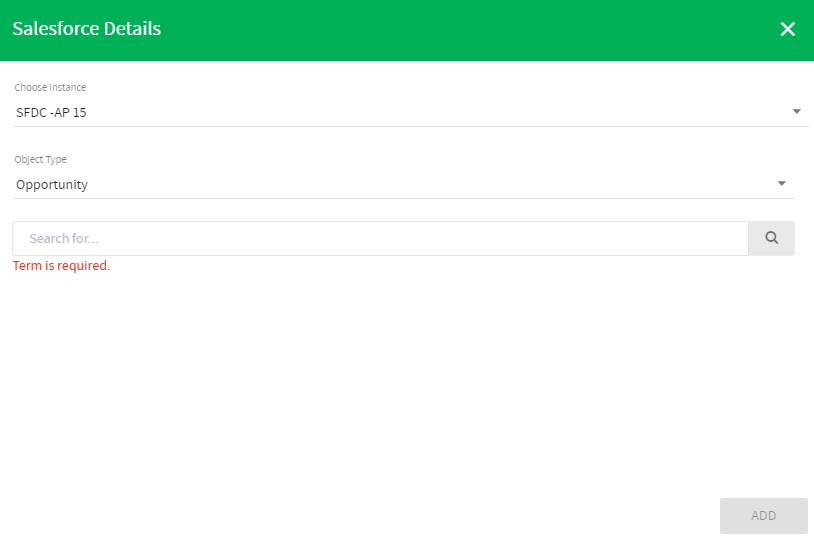 From the Choose Instance drop-down, select the instance to which the project has to be mapped. All instances created for the selected Business Unit will be displayed in the Choose Instance drop-down.
Select the Object Type.
Enter a term to be searched for mapping and click search icon. The results will be displayed as shown below: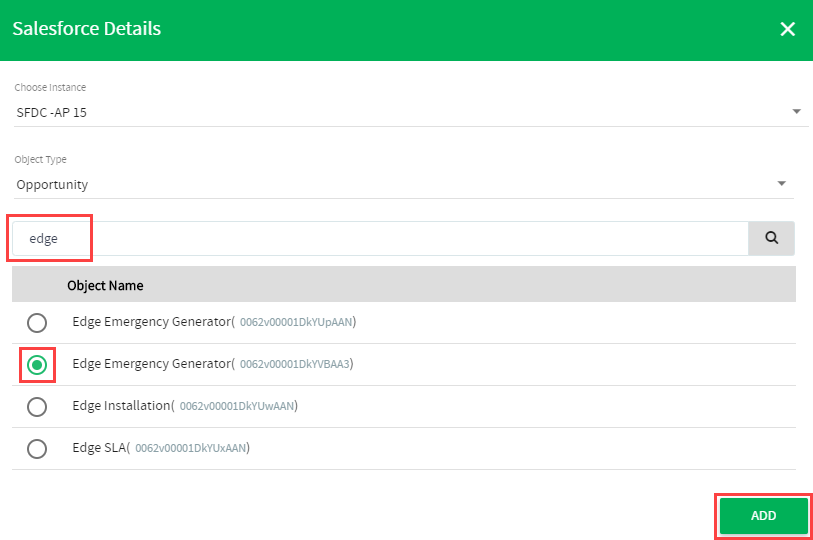 Select the required object name.
Click ADD. The project name will be populated with the object type selected from Salesforce.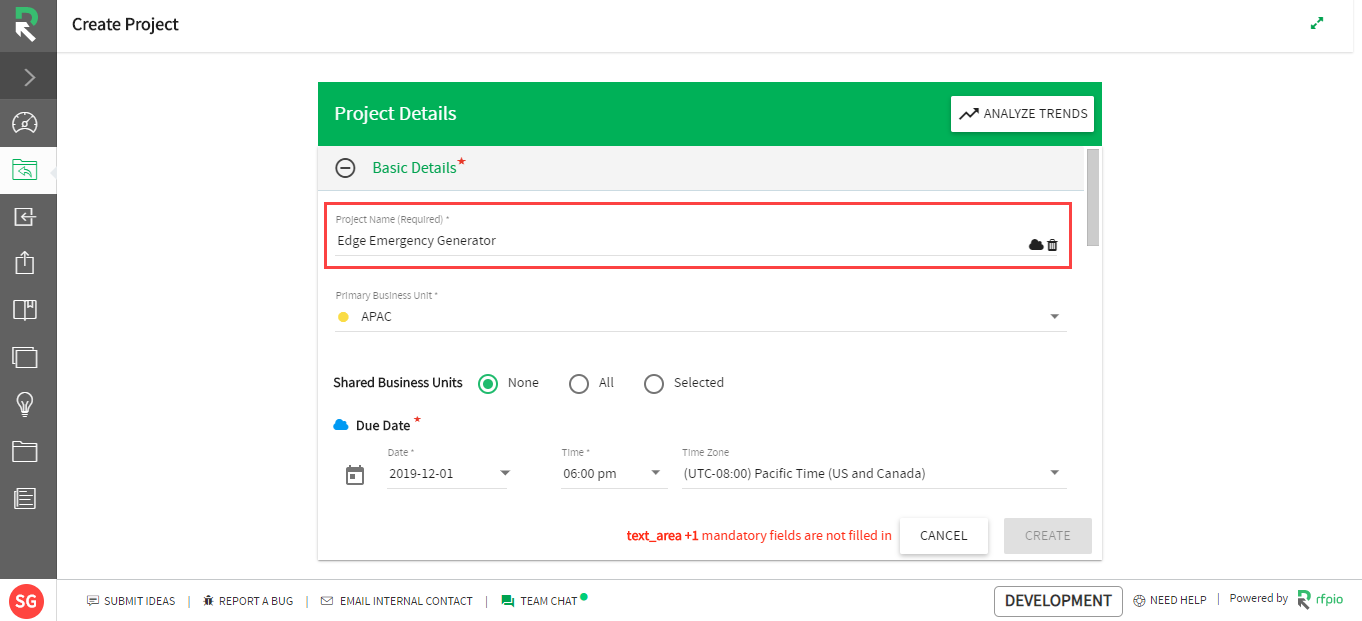 You can enter the remaining details and continue creating the project. Once created, the project will be displayed in your Salesforce account as well.